Spray Foam Vs. Rigid Foam Insulation Near DePere, Green Bay, Allouez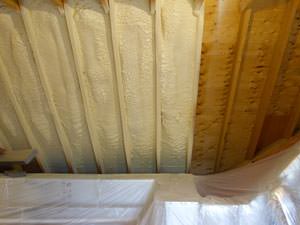 Best-suited for big jobs. Two-part spray foam provides excellent air sealing and insulation, and is often sprayed against open framing, as in this attic installation.
Remember when a pink panther held the monopoly on home insulation? Those days are gone. Today homeowners, contractors and building scientists (the experts who study home energy performance) spend a lot of time talking about foam insulation. But this newly popular insulation can come in many forms. Right now, let's consider the differences between the spray foam and rigid foam. More specifically, we can compare the closed-cell spray foam that requires two components to be mixed at the application nozzle, and the rigid foam insulation boards that come in different thicknesses.
Both two-component spray foam and rigid foam are useful for improving home energy performance. Sometimes it can be difficult to decide whether spray foam or rigid foam is best for a particular application.
Find out which insulation is right for your home
Insulation is essential for energy efficiency, and nobody knows insulation better than Dr. Energy Saver by Keeney Home Services. Call or email today to arrange for a Free Estimate for home insulation in Green Bay, DePere, Allouez, and other areas including Appleton, Kimberly, Neenah, Menasha, Wausau, Stevens Point, Oshkosh, and more.
The Pros and Cons of Spray Foam and Rigid Foam Insulation
Be sure to check out our other content to help in choosing the best spray foam insulation and the best spray foam contractor in Northeast Wisconsin.
Start Saving Energy and Money With An Insulation Upgrade.
Call 1-844-385-7693 or contact us online to schedule a Free Estimate for spray foam insulation in Allouez, DePere, Green Bay, Kimberly, Appleton, Menasha, Neenah, Stevens Point, Oshkosh, Wausau, and nearby.
We can also identify the other major areas in your home that are depleting your home's energy. Our home energy audit is a wonderful resource for prioritizing your home's energy upgrades and repairs.
Looking for a price? Get a no cost, no obligation free estimate.