About Dr. Energy Saver by Keeney Home Services
Serving the Northeast Wisconsin region since 2008, LeafGuard has quickly become a local leader in the gutter and roofing industries.
Learn more about LeafGuard Gutters and GAF Master Elite Timberline Roofing products and services by visiting our website.
As a Dr. Energy Saver dealer, we provide a wide range of insulation services to give our customers a complete home improvement experience, which includes energy-saving solutions to improve home comfort while lowering energy costs.
Protect and improve your most important investment, your home.
Eliminate maintenance with LeafGuard Gutters
Improve comfort and efficiency with Dr. Energy Saver Insulation Services
Protect your investment with a GAF Master Elite Roof
Customer Review
By Sandy M.
Fond Du Lac, WI

"Everything about this company was outstanding. They did a great job, reliable, followed up as needed."

By Jenni A.
Green Bay, WI

By Judy T.
Oshkosh, WI

"No complaints! Very hard workers and surpassed my expectations"

By Don B.
Oshkosh, WI

By Nick B.
Oshkosh, WI

By Jared H.
Brandon, WI

By Nikki W.
Appleton, WI

"Everyone did a great job! The end product was done well and the installers were very clean with spraying the insulation. It..."

By Heath B.
Neenah, WI

"You were willing to take this job based on faith in a guy who'd just graduated from school and starting over in a new career. All..."

By Mike S.
Neenah, WI

By Terry T.
Neenah, WI
Our Values & Promise
Excellent customer service
Quality workmanship
Products guaranteed to last a lifetime
Awards & Recognition
BBB Accredited Business
Angie's List Member
Winnebago Home Builders Associate of the Year
GAF Roofing "Master Elite Roofer"
Housing Zone "Remodeler of the Year 2012"
About the Owner & Team
Josh Keeney, owner of Dr. Energy Saver by Keeney Home Services has been in the building industry for over 20 years. He says, "With my background in Architecture and a team of people who have worked in all facets of construction, our staff can deliver quality results to our customers, backed by experience they can trust, no matter what their needs."
We're Here to Solve Your Home Energy Problems
As a member of several local and national professional home builder organizations, such as the National Association of Home Builders, Wisconsin Home Builders Association, Wisconsin Green Building Alliance and more; we recognize that no home is built to perfection. A home is made up of a whole bunch of systems that work together, and when one isn't working properly, it affects your home's overall energy efficiency. Our home energy audit is the perfect solution for diagnosing your energy problems.
While we specialize in home insulation and air sealing, our energy audit will show you the other area's of your home that should be improved to increase the efficiency of your insulation, and your entire home in and around Green Bay, DePere, Allouez, Appleton, Kimberly, Neenah, Menasha, Wausau, Stevens Point, Oshkosh and nearby. Check out our full service area in NE WI to see if our services are available in your area.
Every type of insulation is different, and some work better than others depending on the area of the home that is being insulated. That's why we install all types of insulation materials, including spray foam, blown-in, rigid foam, cellulose, fiberglass, and Rockwool. Our experts have the training and experience to be able to suggest the best solution for your insulation upgrade, whether it's for your attic, garage, roof or any other area of your home!
What Does It Mean to be a Dr. Energy Saver Dealer?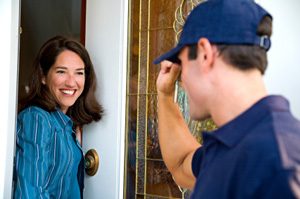 Dr. Energy Saver by Keeney Home Services is a member of the largest energy services contractor network across the country. Why? It's because we are dedicated to helping improve home energy efficiency, health and comfort for homeowners throughout the Fox Valley Area.
All of our services are based upon a unique whole-house approach that we use to assess each home as an individual system and providing each and every client with a custom solution to their energy problem. The members of our team are certified and receive on-going training at the National Energy Conservation Center and Dr. Energy Saver headquarters in Seymour, Connecticut.
Looking for a price? Get a no cost, no obligation free estimate.